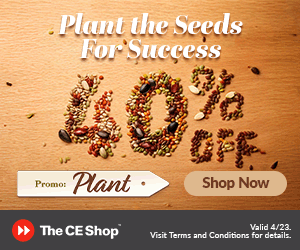 The CE Shop – The leader in online real estate education!
We know our members' time is valuable and trying to stay on top of business and family priorities can be a challenge–especially as your license expiration date nears.
CABR members receive a special discount on online education through the CE Shop.
Make sure to register through the cabr.theceshop.com and use the promo code in the picture to save at least 20% on your class purchases.
Online learning offers convenience and flexibility and gives you more control over your time. More CE Shop benefits include:
• Relevant and Engaging Information – the most current information you need to know in manageable, bite-sized paragraphs.
• Self-Paced Courses –  Log in and out as many times as you need and go back to review earlier lessons or move forward with the next.  It beats cramming at the last minute.
• Reporting Course Completions – The CE Shops manages ARELLO certification, the approval process and ensures that your completion certificates are accessible to you 24/7.
• CE Shop Course Adviser – For all our members, even online learning novices, you have access to our skilled Course Advisers who can answer all your questions and concerns.
NAR's REALTOR® University
REALTOR® University's graduate school allows students to expand their education in what they know best: real estate. REALTOR® University offers online graduate degree programs, along with online designation and certification courses. Visit REALTOR® University's website for more information on programs and classes.
Ohio Association of REALTORS®
OAR also offers a variety of online courses. Click here to see online course offerings.